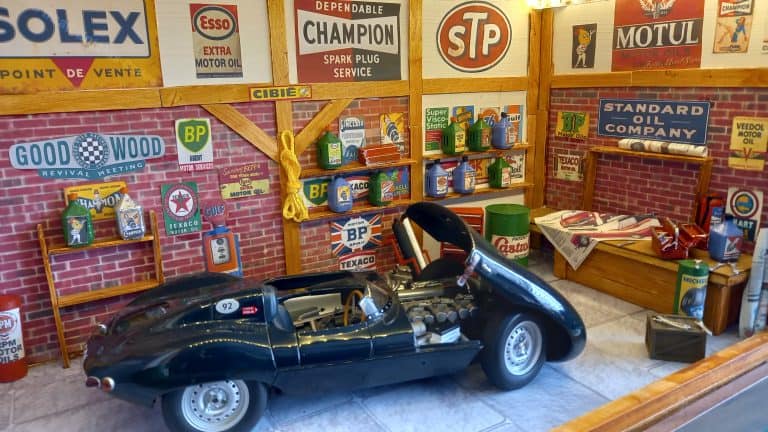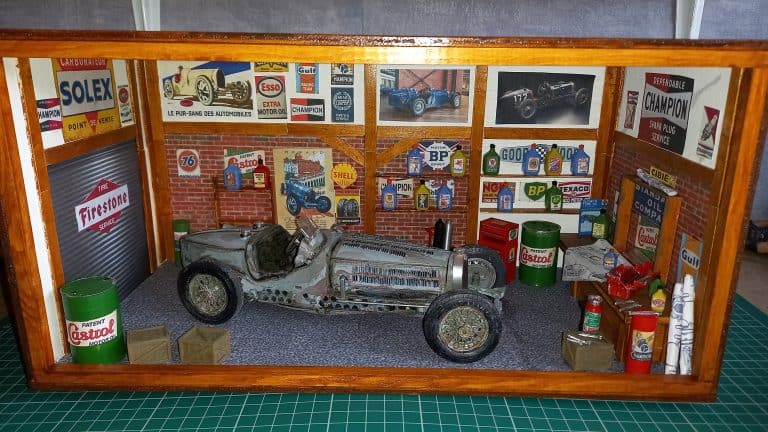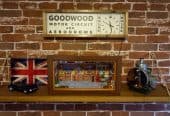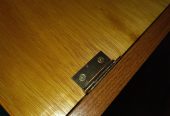 Goodwood revival. Barn find. Garage. Restoration. 1:18th scale diorama with opening frame and usb lights.
Overview
Category :

Misc, Clothing Etc.
Goodwood revival wooden Diorama Display case with usb lights 1/18 scale diecast.
This is the Standard diorama case 1.18th scale
Comes complete with usb lighting system and 1.8 metre extension usb cable.
Diorama barn unit garage Model Display case Scale 1:18. also 1:24 1:43 scale.
Sale is for the diorama only and includes all the garage equipment shown.
vehicles are not included, photos where vehicles are shown are from previous customer built dioramas.
#sebringdioramas
Looks great on a shelf, bookcase or just about anywhere.
Scratch built diorama display case with opening frame.
My dioramas are bespoke and can be made to any size (within reason)
Display case frame can be opened and closed, enabling placement of further garage accessories.
All items, such as barrels, tool chest, boxes and cans are 3D prints.
Diorama box dimensions are as follows: (standard is one for sale)
The Hanbury size to suit 1/43rd scale 
Box size 10 x 5"
L:   255mm
W:  130mm
D:  130mm
The Classic size to suit 1/24th- 1/25th- 1/26th scale
Box size 12 x 6"
L : 300mm
W :150mm
D :125mm
The Standard size to suit  1/18th scale
Box size 16 x 8"
L : 400mm
W :200mm
D :200mm
The Lyndon size to suit 1/18th & 1/24th scale
Box size 20 x 10"
L: 500mm
W: 300mm
D: 300mm
Goodwood size to suit 1/18th & 1/24th scale plus 1/43rd for several vehicles or more
Box size 30 x 12"
L: 760mm
W: 300mm
D: 300mm
Any of these vehicles would look great sat on display on any shelf, desk or in one of my dioramas and would make an amazing gift!
PLEASE SEE MY OTHER DIORAMAS FOR SALE.
Any questions, please ask: 07715 892114.
Delivery will be via Evri, Tracked and trace will be provided.
Also WR9 collection is available if you prefer.
Thanks for looking:
Please visit    www.sebring-classics.co.uk   to see more customer builds
#classicjaguar #classiccars #classicamerican #fordescort #classicmini #goodwoodrevival #shelsleywalsh #prescotthillclimb
#silverstone #classictruck #diorama  #autoart #wallart #collectables #birthdaypresent #shelfart #goodwood #goodwoodrevival #goodwoodfestivalofspeed #classiclotus #classicbentley #Wood #woodencraft #woodcraft #hobby #hobbies #project #barnfind #unusualpresent #bespoke #bugatti #ford #austin #austimini #BMW #citeron #classicferrari #austinhealey #alvis #sebring #lancia #alfaromeo #triumph #audi #unusualbirthdaypresent #birthdaypresent #present #christmaspresent #displaycase #woodendisplaycase
 #shadowbox #shadowboxdiorama #unusualgift #unusualpresent #specialtreat #specialgift #60thbirthdaypresent #MGA #MG
Goodwood revival. Barn find. Garage. Restoration. 1:18th scale diorama with opening frame and usb lights.