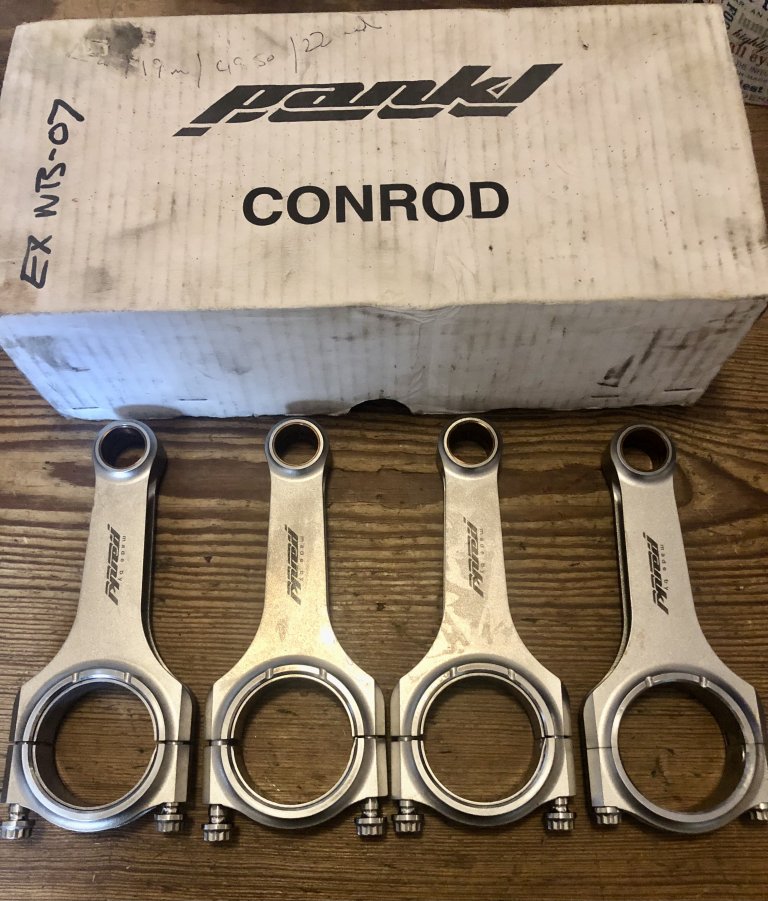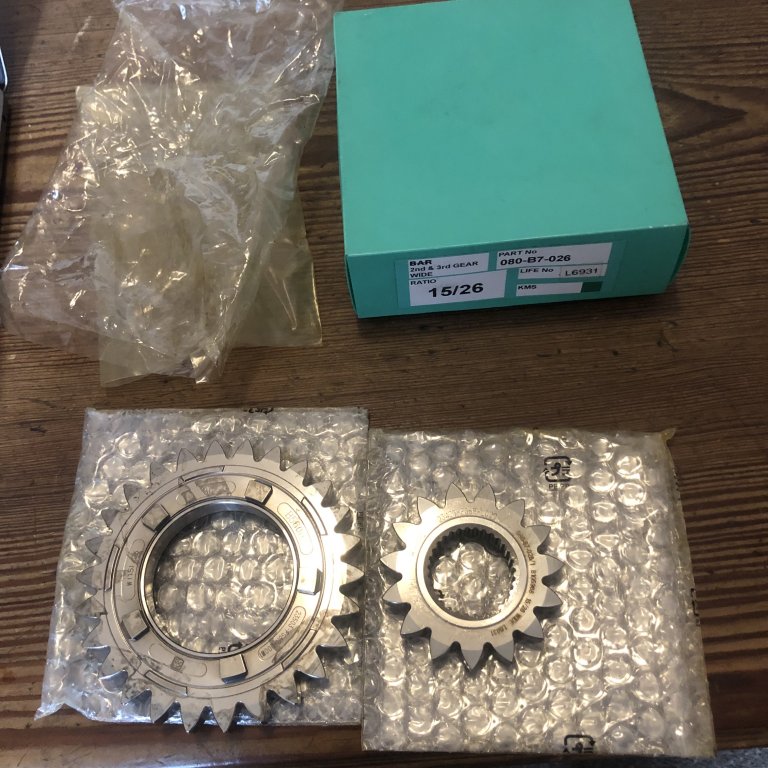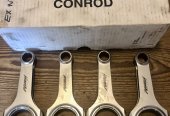 LOADS & LOADS of useful/useless bits1
Overview
Category :

Engine & Transmission Parts
LONG List of Useful/Useless things
Vauxhall C20XE red top engine – ex Opel-Lotus….£800.00
Zetec 2 litre silvertop cylinder head refurbed/ported by Dunnell £200
20+ Halon & Z2000 expired race/rally alloy extinguisher systems - £20ea
711M Ford block with gear driven cam, good, raised ring head seal £180.00
Ford Crossflow/Twin Cam side mount dry sump pump £140.00
Ford crossflow twin weber inlet manifold £70.00
Ford Crossflow finned alloy rocker cover £60.00
Malpassi filter & press regulator £30.00
Malpassi pres regulator £20.00
Sabelt Taurus L FIA race seat with side mounts – date expired- £175.00
Duratec to LD/FTR/Elite adaptor ….£140
7.25 twin plate AP clutch ….£140.00
Pair AP Racing inboard one piece rear discs for Hewland mk 9…£90
Pair AP racing inboard one piece rear discs for Hewland FT200….£60
Dallara F3 HJS catalyst & silencer – 2008?...£125
Mygale alloy brake bell/hub centres…£30.00 each
Formula Vauxhall Lotus/ Reynard FF alloy wheel flanges £35 ea
FVJ bell housings – with welds - £40.00 ea
Hewland FG Salisbury LSD….£375.00Hewland DG sideplate RH306…£160.00
Vauxhall Lotus exhaust manifold – req repair - £60.00
Cooper F1 LH alloy side fuel tank…£40.00
Lotus 21 F1 saddle tank…. £70.00
Cosworth DFV flywheels…£50.00ea
Royale RP29 sidepod. £20
Vision F3 bare alloy transmission adaptor/module …£100
Brawn F1 2005 gear ratios -unused- 30 @ £15ea
Reynard FF2000 roll hoop + front & rear supports £50
JKS/Speads single seater full length floors - £50.00
JKS/Speads wing plane front wing – fibreglass – with sideplates & mounting £100
Mould for above £60.00
Formula Vauxhall-Lotus mk1 nosecones £30-£50
Weber 48mm intake trumpets – 60mm long – new £8.00ea
VANDIEMEN- blank chassis plate - £35.00
ARROWS F1 blank chassis plate …£30.00
NOVAMOTOR engine plate….£30.00
8x EXHAUST MANIFOLD STUBS – F1/F3000 prob DFV or JUDD……£50.00
VAN DIEMEN RF99-01 LH Sidepod Top……£40.00
LOTUS ESPRIT/JAG XJS etc Mintex F4R brake pads….£40.00
Single HEPOLITE FORD Crossflow +090 1700 piston…..£15.0
VW 8v Tubular exhaust manifold – for longitudinal installation……..£35.00
HEWLAND FG 14/45 low ratio 1st gear & layshaft……£120.00
VAN DIEMEN RF05/06 front damper cover…….£40.00
HEWLAND FG207A magnesium gearbox adapter – Ford to FG……….£130.00
MASERATI 430/BiTurbo later 80s/early 90s 5 stud 15" wheel…………£35.00
RALT F3 Magnesium rear uprights – pair – RT35/36?.................£95.00
PORSCHE 911 pair chrome headlamp bezels …..£40.00.
MARCH 693/703/712 Rear suspension - needs work - includes uprights/driveshafts/discs/wishbones. £275.00
HEWLAND FT/FG 1st /Rev gear hub………£40.00
Dallara Hewland input shafts £100.00
Dallara Pankl input shafts £70.00
Roll Hoop for monocoque tub of some sort £40.00
JKS/Speads Single seater floors …£40.00 ea
JKS/Speads one piece glassfibre front wings - unused – in mounting & end plates £100.00 e
Mould for above… £60.00
Radical Clubsport/Prosport wheel bearings/driveshafts/CVs
4 prong Ignition Coils ..£12.00 each
Royale RP11 magnesium cast front uprights LH unmachined £30.00
Mugen F3 Pankl conrods - £160 – per set
Ford 3.5/3.7 Cyclone Mustang V6 water pump…..unused …£30.00
RALT front upright - unmachined – RT2 010C…..£30.00
Toyota Mk7 PAS steering rack 1999-2006…..£25.00
BDA COSWORTH Howard Engineering Ignition System - £45.00
Alloy DRY SUMP tanks – all sorts of shapes …. from £30.00
LUCAS alternator A127-45 ADU9670 – BLMC/Austin Rover £15.00
SWIFT FB89 Formula Renault Rear Upright in bearing etc …£60
TRIUMPH DOLOMITE 1850HL/TR7 front timing cover….£10.00
CHRYSLER/TALBOT/ALPINE/MATRA front brake pads…..£8.00
OPEL MANTA CIH SOHC camshaft……£20.00
FIAT DUCATO 2.3 Oil Cooler/Heat Exchanger…….£20.00
FORD TRANSIT 1978- manufacturers workshop manual Vol ….£12.00
PORSCHE 911 (930) TURBO inlet manifold & throttle body 1970s classic ……..£150.00
OIL COOLER – small 9 row – unused £25.00
BRABHAM FJ/F3– pair of cast alloy engine mounts….£60.00
RALT - RT1/RT3/RT4/5/RT30/RT31/RT32 – blank chassis plate…..£35.00
FERODO FCP882A pads for classic AP Racing/Girling Calipers – Lotus Elite etc …£20.00
Hewland etc input shafts. - Probably 100+ input shafts Mk9/LD/FT/FG/F3A/ …(no std FFord..mostly F3/FT/FG)No good quoting part numbers – you need lengths, bearing position & spline type
Springs Vast quantity of 2.25" springs …some shiny & unused …some less cosmetically appealing.Various lengths and poundages from 100lb/in to 1800lb/in. Can all be popped on spring tester prior to despatch to ensure you get the poundage you require. Mostly £15.00 a pair….or 6 pair @ your choice of poundages for £60
Spring collars and spring platforms - Coilover hardware for dampers of all sorts. New & Used, Once again best you come & root or provide accurate description of your needs
Starter motors & alternators - Lots of lightweight alloy geared starters & various alternators – all sorts – might be something to suit your application but you'd have to decide 'cos most of these are unidentified
Driveshafts - 100+ driveshafts ..from FF to F1 – decide length/spline count required & rummage
Anti Roll Bars - large quantity – both traditional full width bars and modern small T shape & similar bars for use with pushrod suspension etc
Alloy split rim wheel sections – NO Compomotive/Revolution ..but 30 odd unidentified
13 " sections – no centres
Rose joints & spherical bearings - All shapes & sizes – some new & unused & some used but very usable.
Lobro joints/CVs/UJs - Drive shaft joints of various sorts – you would need to rummage
&&&& loads & loads more!
07703 162409 dermothealy@btinternet.com
Why not leave the texting & PMing to your grandchildren & just use the telephone instead
LOADS & LOADS of useful/useless bits1